Berich is a free BigCommerce theme built with Stencil framework and Google AMP ready!
3 Variations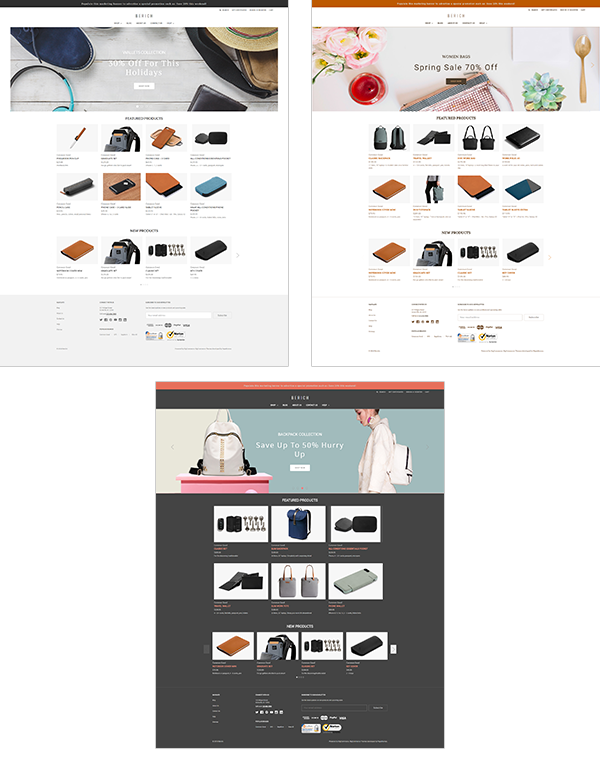 Light Style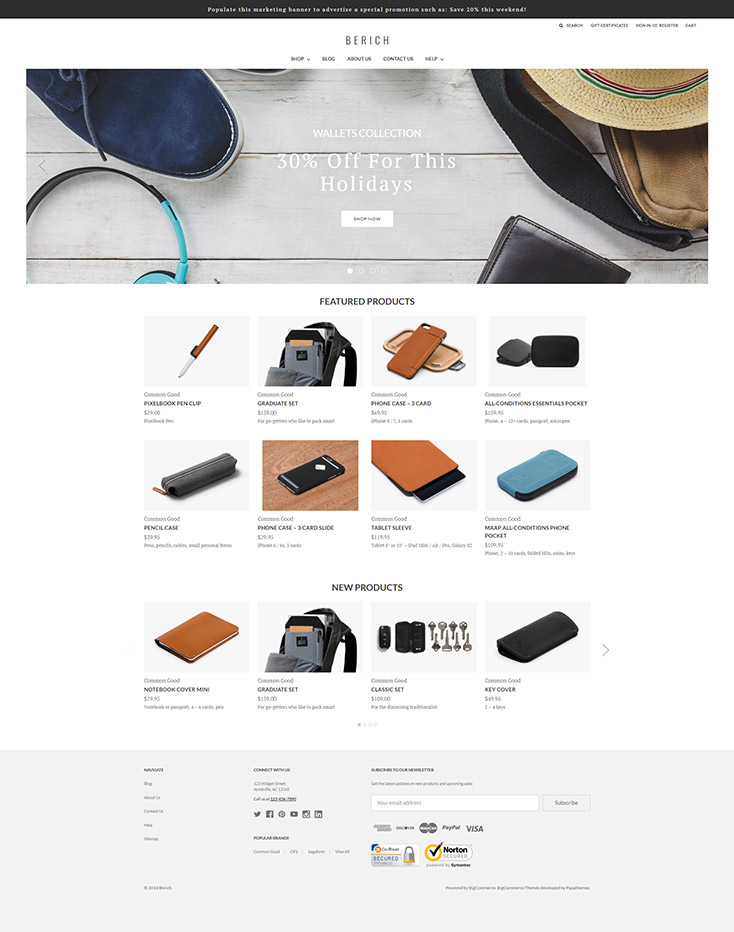 Berich Dark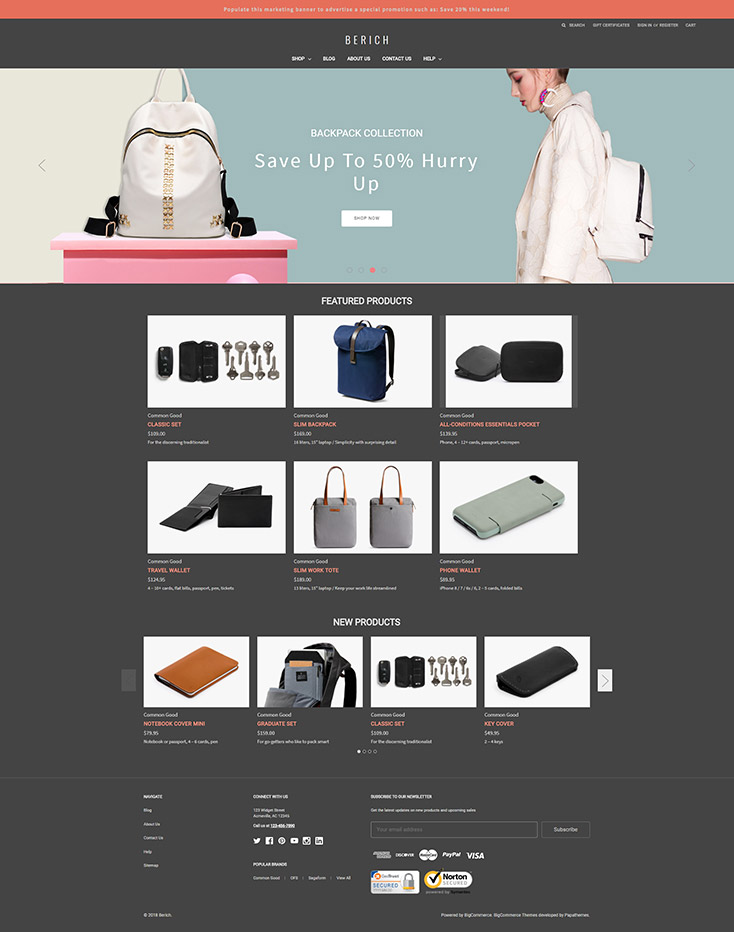 Berich Warm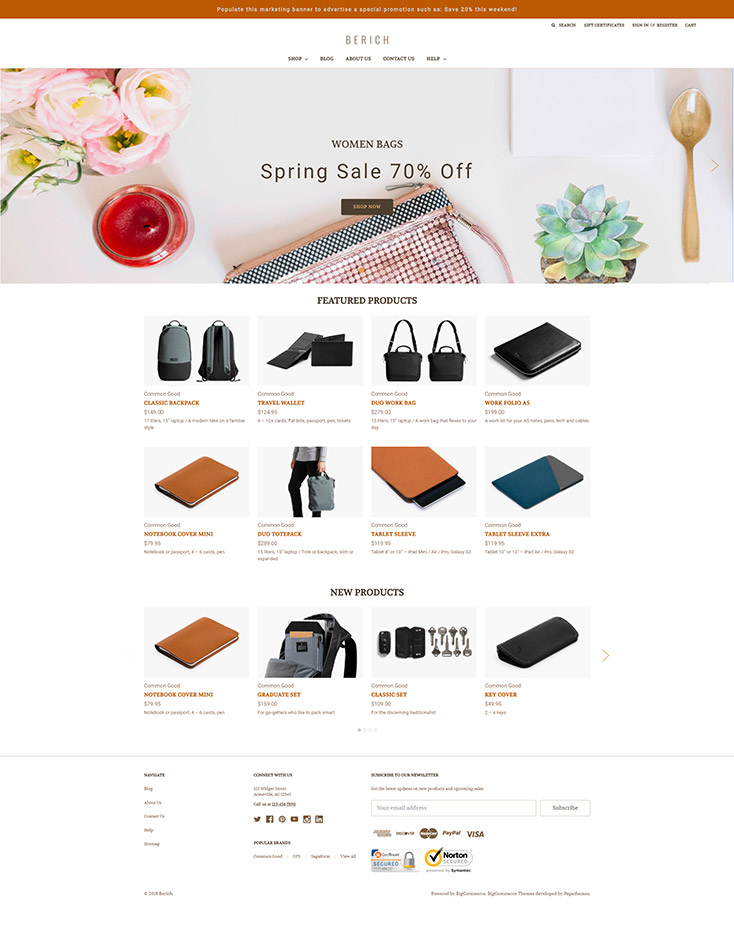 Mobile UI/UX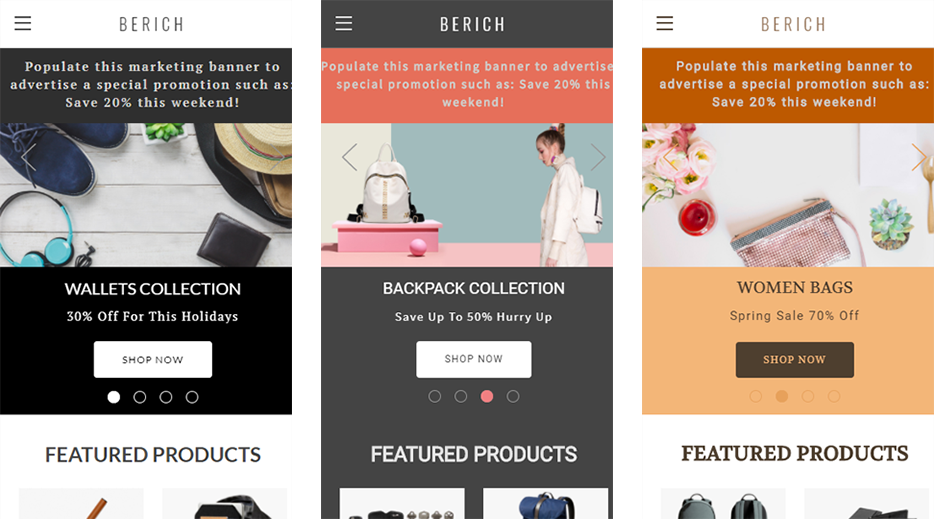 Where could you find an amazing free BigCommerce theme like Berich?
Papathemes would like to introduce to the BigCommerce user community BERICH - a completely FREE BigCommerce theme. It is so wonderful that this new template is fully supported features like what Cornerstone theme owns, because Berich is built basing on Stencil Cornerstone original one with Google AMP ready. Further than that, the design of Berich is polished with much greater care that reduces redundancy, changes fonts and colors to make your products stand out and shine as if they are one of the kind and your customers have no way but showing consideration for them right at the very first sight.
If you are trading on accessories, purses, backpacks, leather goods, handicrafts, cosmetics, perfumes or clothing, Berich would be the advisable template for you to enlarge business. Different from other free Bigcommerce theme, Berich brings you a gracious and sophisticated online store, but user-friendly as well helping you reach the No.1 position amongst thousands of competitors in the market outside.
View demo now View other premium BigCommerce themes
Do not goof Berich! Here are the reasons
Programing is extremely strange for you.

You have no idea about

HTML/CSS code.

You would like to create a quick e-commerce website.

The budget is very limited for building a e-commerce website.

You dream of a website that owns fully useful features, supports all online payment methods, easy product catalog management, and efficient order management.

You want to connect to sales process on Facebook, eBay, Amazon from your own website.
With BigCommerce you can easily create your own online store that meets all above requirements immediately. Just move your mouse to go to https://bigcommerce.com/ and click on the Trial Store button, then you are able to experience BigCommerce store in 14 days totally for free. To be able to sell immediately you will need to pay $29 / month for BigCommerce. BigCommerce will ensure your website is stable, fast access and the most convenient sales and marketing platform ever.
Berich is not only a free BigCommerce template, but also the integral power for your long – term business. As soon as installing this amazing theme into BigCommerce, your website would turn to be more eye-catching, more professional, because we do know that a striking store appearance is one of the main points helping you attract customers. Furthermore, Berich also help customers easily review products find products and order quickly when offering a powerful option feature that allows you to show your best-selling products, newest products, or featured products on your store's homepage. Allowing the display of product advertisements, promotions, Berich is designed to meet a wide variety of stores ranging from clothing sales, accessories, footwear, purses, backpacks, handbags, cosmetics, perfumes, handicrafts.
At just $ 29 a month, it is entirely possible for you to run a steady sales website without facing any difficulties with Berich and BigCommerce. It is no need to worry about technical issues anymore!
New wonderful features adding to Berich
1) Menu with product category image

Automatically displays the category image on the dropdown menu. Product catalog is presented more intuitive. Your customers would not take time and easily access the product catalog to find what they intend to buy.
You have power to turn this function on/off flexibly in case you want to back to Mega Menu, multi-column menu as the original Cornerstone theme.
Moreover, another ideal feature Berich supports that you would hardly find at other normal template is drop down menus for static posts, web pages, sub web page.

Not just that, web pages are displayed with inspired illustrating images and stunning icons, which make shoppers have to pay meticulous attention to when going pass.
2) More succinctly layout, more polished fonts and colors
This BigCommerce template still keeps the design criteria minimalist and clear like the original Cornerstone theme. However, if you were a buyer trying to find something, would you want to wander around and around looking for that? The answer would be NO for sure. Therefore, you can find that Berich is reduced distance to help customers browse products conveniently, leads to the mouse drag operation, but still retain the layout is easy to read because Berich increases the text contrast by black letters on pure white background.
Footer adds full outstanding features, links such as web pages, featured brands, shop address, contact numbers, icons link to fan pages, social networks like facebook, twitter, pinterest, youtube, linkedin, instagram. Besides, the newsletter form makes it easy for customers to subscribe to your web shop to receive promotional information and announcements. There is no way to boost marketing process and take a good care of customers effectively without paying any bucks or human resource like these one.
Another thing would surprise you is that Berich allows to display the GeoTrust logo, Norton Secured site powered by Symantec certified your web store is reliable, safe to buy. This not only increases customers' confidence in your name, but also builds the loyalty from their heart. As the result, whenever having demand on something, the first place pop up in their mind will be certainly your online store.
This theme also supports display logo of the payment methods that your website has such as Visa, MasterCard, Discover, Paypal, Amazon Pay, Apple Pay, Google Wallet ... There is no doubt that Berich would substitute you to serve customers to the end of the purchase.
3) Show product information entered from custom field
Take a look at the products on the website demo, you will find that there is brief information about the product right below it.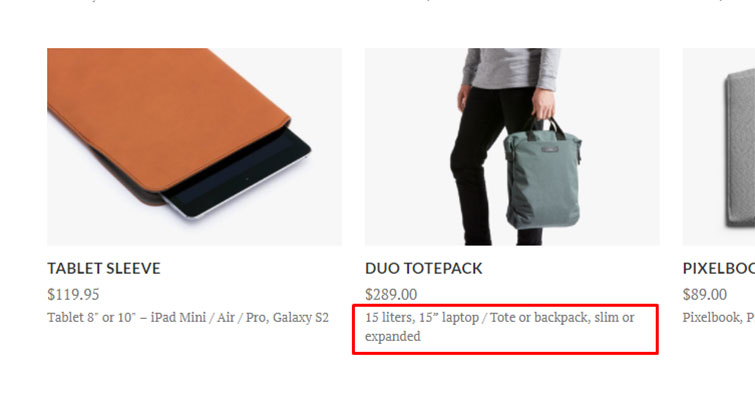 It is very useful when you need to provide more information about the product to customers, making it easier and saving time for them to make a right decision of picking up one item.
What an incredible feature a BigCommerce theme can support! You are able to make every purchase become as quickly as possible that shoppers have no need to open new tab take more details. This is actually one of the main points helping you get the trust from the customers.
4) The product category page showed full width / fluid width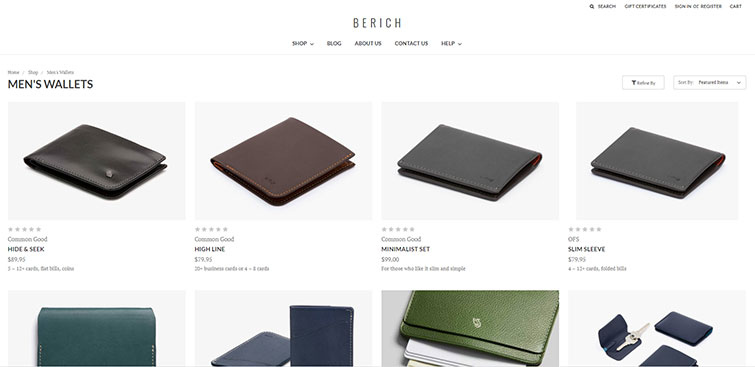 The full width / fluid width screen allows products occupy all the free space, look like they could shine on a larger and more professional stage on their own. Whatever device you and your customers use, such as computer screen, phone device or tablet, the theme, it will automatically stretch to show the whole so that you could bring every detail to your shoppers naturally and delicately without molesting them.
Category page supports Google AMP allow to instantly load entire page on Google search result.
5) The page of product details is significantly improved with product video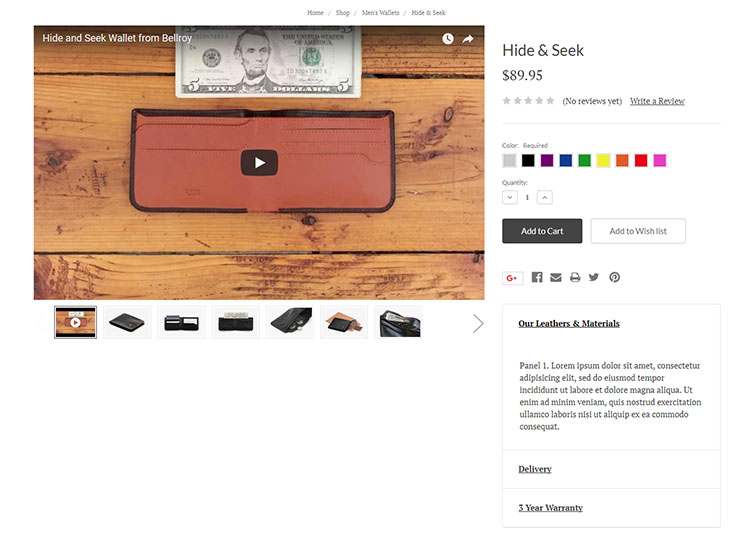 Just all those things could create the amazing Berich? No. Here is another one that surely overwhelms you. Dreaming of bringing you all the best, this template allows you to present youtube video of products alongside the images in order to make your customers feel much more real like they are choosing that one firsthand. Besides that, image size is increased much more than the original version of Cornerstone. You are also inherited a great function of showing other information about products such as warranty policy, shipping method, short description ... on the column at the right.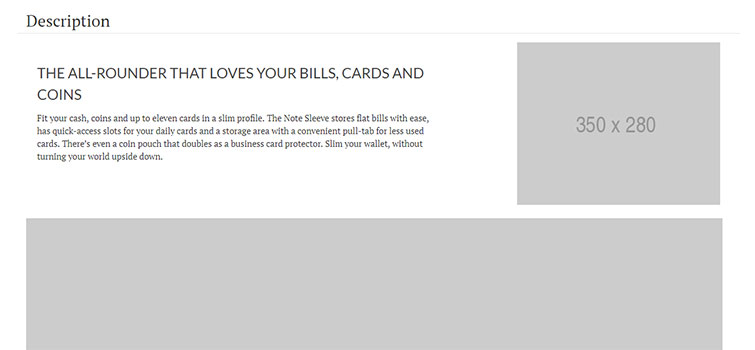 What would happen if you have no idea about how to use a BigCommerce platform or an expert in eCommerce field? Do not worry. Come to Berich, you can freely customize the content or arrange the page by yourself. It supports product descriptions cover the content of the column and responsive easy viewing of products on any mobile device, tablet, and pc as well. Then, running your business turns to be an handy job that when you don't have to pay much attention to technology but still have strong power to control and push it grow faster.
Product page also supports Google AMP allow to display product details instantly when click on Google search result. Increase your conversion rate with ability to place order on AMP page as well.

Static web pages
The About Us page is designed with gorgeous full-page scrolling effect that you could use right away just by changing available pictures and the text. In case you do not want to use the old content, you are very able replace it entirely with another one.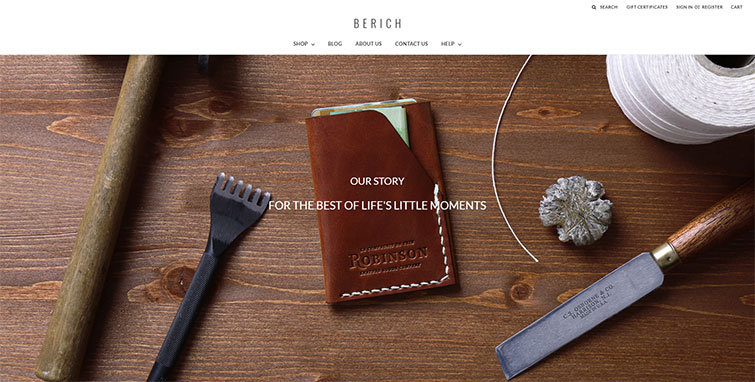 Contact Us page is full of contact information, address, telephone number, shoppers support information. There is also a built-in gmap map helping to set your store location; you could customize the map by editing the page content in the admin panel. There is absolutely no smarter way than this one to reinforce trust from customers again, and maybe increase the number of visitors for the actual store at the same time.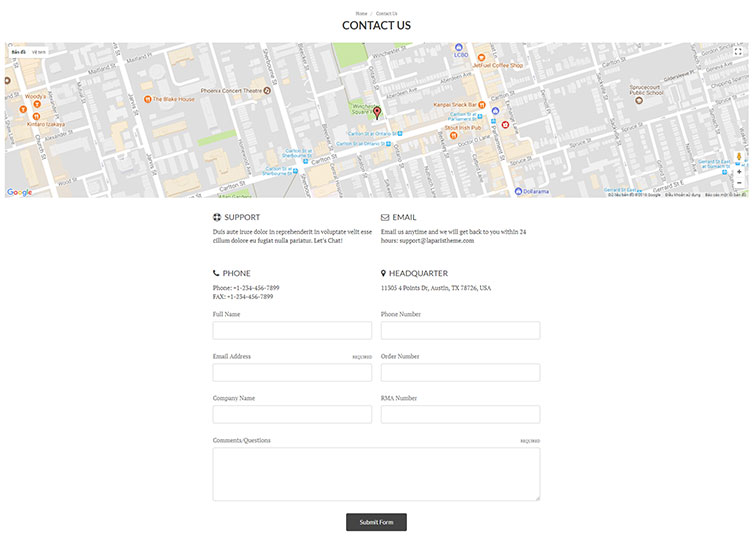 In brief, if you want to have a fashion store similar to bellroy.com with tight budgets, using this free Berich theme on the BigCommerce platform is the best choice. After all, it's easy to see that the Berich template is designed as the most enthusiastic sales assistant for you, cooperate and stand by you all the time, even in the smallest work, and make your brand grow larger and stronger.
Could you find any other wonderful and superb BigCommerce templates like Berich amongst tons of normal eCommerce themes outside? Why do you have to find a needle in a haystack when having change to experience this ideal one freely? Berich is always available there waiting for the next owner.
Looking for more powerful and beautiful theme? We'd recommended our premium Parallax BigCommerce theme - Paralbag.
Release Notes
## 1.0.1 (2018-01-30)
-
Update Cornerstone 1.12.1
very clean design and easy to modify!

I Like your design, simple , detail and fast loading