In today's digital marketplace, the way you display your products can make a significant difference in the customer's shopping experience. One effective strategy is showcasing products by category on your homepage, a feature effortlessly achieved by using the free "Products Feed" widget included in PapaThemes Widgets App developed by Papathemes.
The " Products Feed" widget is a user-friendly tool that allows you to organize and present your products by category. This functionality is not only user-friendly but also enhances user engagement, leading to better conversion rates.
To help you get started with the "Products Feed" widget, we've prepared a step-by-step video tutorial. This guide will walk you through the entire process of displaying products by category from the initial setup to the final execution.
In the video, you'll learn how to integrate the widget into your store, set up product categories, and customize the display to match your branding. By the end of the tutorial, you'll be able to showcase your products by category with confidence and ease.
Furthermore, if you wish to create a custom product list, the free Products List widget included in the PapaThemes Widgets App is the perfect tool for you. This improved version of BigCommerce's Product Set widget lets you handpick the products you want to display on any page. It's user-friendly and offers better compatibility with all themes, ensuring that your store always looks its best when showcasing products by category.
Several popular Bigcommerce themes are already integrated with these fantastic features:
These themes stand out in their respective industries, not just for their stunning design aesthetics but also for their robust functionality, including the ability to display products by category. For instance, the MoonCat Petstore theme excels at showcasing pet products by specific categories like dogs, cats, or birds, enhancing the shopping experience for pet owners.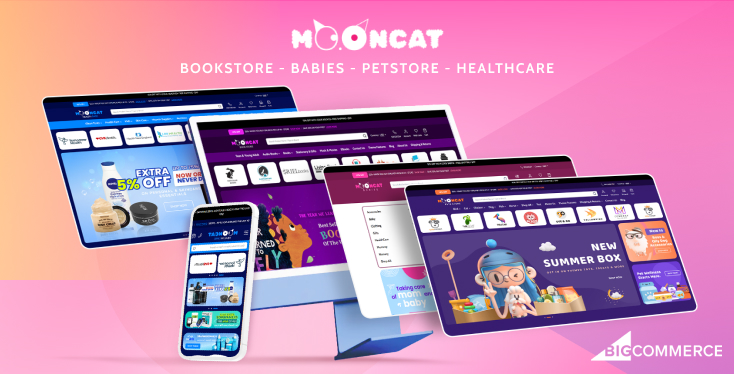 This feature has become increasingly popular and is utilized by many successful websites to increase user interaction and engagement. For example, renowned e-commerce platforms like Amazon and eBay have leveraged this technique for years, allowing customers to navigate easily and find the products they need.
If your current theme doesn't support this feature, or you'd like to add more custom functionality, you can hire Bigcommerce partners to integrate it into your store. They are equipped with the skills and experience to provide a seamless integration process and boost your online store's performance.
In conclusion, showcasing products by category through the "Products Feed" widget is an excellent strategy to enhance your customers' shopping experience and increase engagement. Whether you're using MoonCat, Chiara, Kansha, Beautify, or Supermarket themes, this feature is a must-have addition to your e-commerce store.
Theme design & customization blog
In today's digital marketplace, the way you display your products can make a significant differen …

Insert the code below to Storefront > Script Manager:<script>(function($) { $('body').on …

Solution:Create a product option named Parent SKU:Edit the option set of your also bought together p …