November 12, 2018 - v2.7.1
Fix the bundle error of 2.7.0
November 07, 2018 - v2.7.0
Add support for Paypal smart buttons settings [#1359](https://github.com/bigcommerce/cornerstone/pull/1359)
Allow to configure homepage sections
MERC-4097 Copy changes, rearrange Payment Buttons section
Fix spacing with SweetAlert cancel button on mobile [#1363](https://github.com/bigcommerce/cornerstone/pull/1363)
Copy changes for Payment Buttons section. [#1365](https://github.com/bigcommerce/cornerstone/pull/1365)
Product review modal error message is now accurate. [#1370](https://github.com/bigcommerce/cornerstone/pull/1370)
Add support for Card Management: List, Delete, Edit, Add and Default Payment Method [#1376](https://github.com/bigcommerce/cornerstone/pull/1376)
Add support for declarative data tag analytics. [#1377](https://github.com/bigcommerce/cornerstone/pull/1377)
Update base theme Cornerstone 2.6.0
October 02, 2018 - v2.6.0
Fix textarea cannot start new line when hit enter
Show Add to Cart & Compare buttons on mobile
Add link to order status in account menu when viewing order [#1343](https://github.com/bigcommerce/cornerstone/pull/1343)
Fixed amp page error related to store logo [#1323](https://github.com/bigcommerce/cornerstone/pull/1323)
Blueprint for Mapping Custom Templates to JavaScript Modules [#1346](https://github.com/bigcommerce/cornerstone/pull/1346)
Fix option set. Selection from option set that containes multiple similar options. [1347] (https://github.com/bigcommerce/cornerstone/pull/1347)
Update lazysizes plugin to 4.1.2 [#1358](https://github.com/bigcommerce/cornerstone/pull/1358)
Stop lazyloading store logo [#1357](https://github.com/bigcommerce/cornerstone/pull/1357)
Added hidden field for checkboxes with a "No" value. [#1355](https://github.com/bigcommerce/cornerstone/pull/1355)
Add div and id attributes so that contact form steps can be tracked [#1317](https://github.com/bigcommerce/cornerstone/pull/1317)
September 11, 2018 - v2.5.2
Fix [THEME-1661] Product images load constantly when first image in list is not set to thumbnail
September 07, 2018 - v2.5.1
Fix popup preview cart CSS error appear in v2.5.0
September 07, 2018 - v2.5.0
Fix faceted fitlers if filter name has special character
Fix Facebook Like icon hide Pinterest icon
Fix banner images do not show when specify Cat IDs for products by categories section
Fix breadcrumb schema
Add theme option Flyout Menu
Fix blog_post import statement in app.js [#1301](https://github.com/bigcommerce/cornerstone/pull/1301)
Corrects mini cart display issues [#1298](https://github.com/bigcommerce/cornerstone/pull/1298)
Fix invoice store logo. [#1326](https://github.com/bigcommerce/cornerstone/pull/1326)
Require Webpack config only when used (reduce time to be ready for receiving messages from stencil-cli). [#1334](https://github.com/bigcommerce/cornerstone/pull/1334)
Fix encoding issues on Account Signup Form ("'" characters showing in country name)[#1341] (https://github.com/bigcommerce/cornerstone/pull/1341)
August 02, 2018 - v2.4.0
Add new feature allow to specify categories to display products on homepage
Update QuickSearch to support ajax results on mobile
Fix for ESLint "quotes" and "quote-props" errors. [#1280](https://github.com/bigcommerce/cornerstone/pull/1280)
Fix cart link not being clickable on mobile when white space reduced around store logo [#1296](https://github.com/bigcommerce/cornerstone/pull/1296)
Open correct product page tabs when URL contains a fragment identifier referring to that content [#1304](https://github.com/bigcommerce/cornerstone/pull/1304)
Hide popup product option swatch on mobile
Display product reviews in tabbed content region of product page. [#1302](https://github.com/bigcommerce/cornerstone/pull/1302)
Show bulk discounts only if enabled through store settings. [#1310](https://github.com/bigcommerce/cornerstone/pull/1310)
Style active section in search results. [#1316](https://github.com/bigcommerce/cornerstone/pull/1316)
July 02, 2018 - v2.3.0
Fix logo footer not center on mobile
[THEME-1614] Fix Facebook Like button not appear
Fix typo class name productView-info-value--upc
Fix not show product special tabs when no tabs checked
Add main brand logo size configuration
Fix AMP category page error: span no href
Fix empty image on carousel wrap. [#1263](https://github.com/bigcommerce/cornerstone/pull/1263)
Fix duplicate IDs occurrence in product options in certain situations & syntax fix in bulk-discount-rates component [#1223](https://github.com/bigcommerce/cornerstone/pull/1223)
Fix use case that prevented retail/sale prices from displaying on product details page [#1262](https://github.com/bigcommerce/cornerstone/pull/1262)
Fix svg arrows missing on AMP product pages. [#1258](https://github.com/bigcommerce/cornerstone/pull/1258)
Fix arrow placement on currency dropdown menu [#1267](https://github.com/bigcommerce/cornerstone/pull/1267)
Add alias for lazysizes module to bundle minified library [#1275](https://github.com/bigcommerce/cornerstone/pull/1275)
Fix prices not showing in quick search while logged in when "Restrict to Login" for price display is true [#1272](https://github.com/bigcommerce/cornerstone/pull/1272)
Fix duplicate input ID's in product review form [#1276](https://github.com/bigcommerce/cornerstone/pull/1276)
Fix Webpack DefinePlugin configuration. [#1286](https://github.com/bigcommerce/cornerstone/pull/1286)
June 21, 2018 - v2.2.0
Fix footer logo align left
Fix checkout buttons alignment
Fix footer popular brands break new line on Safari
Fix bulk price table not show for Price Lists
Show SKU on cart page and dropdown preview cart
Fix AMP store logo and revert STRF-4804 as it cause invalid CSS
Fix swatch not display tooltip
Fix site logo size
Fix default brand logo not display
Fix video on the main carousel not play
Styling video block on product page for Modern style
Add new setting to display mini modal or hide modal after added to cart
Fix add to cart on AMP product page
June 01, 2018 - v2.1.0
Add Newsletter summary section to subscription form. [#1248](https://github.com/bigcommerce/cornerstone/pull/1248)
Show retail price range with strikethrough. [#1199](https://github.com/bigcommerce/cornerstone/pull/1199)
Fix quantity edit on Simple Product AMP pages. [#1242](https://github.com/bigcommerce/cornerstone/pull/1242)
Fix for individual low inventory count for SKUs. [#1234](https://github.com/bigcommerce/cornerstone/pull/1234)
Avoid undefined context in WishList instance. [#1247](https://github.com/bigcommerce/cornerstone/pull/1247)
Update code from Cornerstone 2.1.0
Add image lazyload
May 29, 2018 - v2.0.0
Update improvements from Cornerstone 2.0.0
Performance improvements. [#1229](https://github.com/bigcommerce/cornerstone/pull/1229)
Fix Product Options hiding Add to Cart on a Google AMP page [#1214](https://github.com/bigcommerce/cornerstone/pull/1214)
Hide blank review stars when there are no reviews on a product [#1209](https://github.com/bigcommerce/cornerstone/pull/1209)
Fix for excess whitespace in multiline text field product option [#1222](https://github.com/bigcommerce/cornerstone/pull/1222)
Fix for sort disappearing on range update with product filtering [#1232](https://github.com/bigcommerce/cornerstone/pull/1232)
Fix logo image dimensions on AMP pages. [#1239](https://github.com/bigcommerce/cornerstone/pull/1239)
Fix product pricing schema.org microdata. [#1233](https://github.com/bigcommerce/cornerstone/pull/1233)
Removed unused browserlist. [#1241](https://github.com/bigcommerce/cornerstone/pull/1241)
Fix for ESLint "no-console" warning. [#1237](https://github.com/bigcommerce/cornerstone/pull/1237)
fix(catalog): CATALOG-2913 individual low inventory count for skus
May 24, 2018 - v1.5.5
Show custom badge on product page
Fix: Support redirect to cart page after added to cart was removed by mistake.
Fix category description has no padding on Modern style
Add theme option allow to display category description on AMP
Fix currency label display wrong on AMP. Change color of menu toggle icon on AMP.
Fix product thumbnails carousel when image count < image to show
Fix vertical subcategories 3-level not expand automatically
May 18, 2018 - v1.5.4
Fix multiple videos cannot play
Fix a glitch of price with tax on product page
Update image size of blog bigger
Support menu to display 4th+ level categories
Fix styling price on product page when Include Tax is selected
May 10, 2018 - v1.5.3
Fix add to wishlist dropdown css on Firefox medium screen
Fix [THEME-1512] Titles of product tabs include in description structured data
Fix [THEME-1540] Product images disappear when first image in list is not set to thumbnail
Fix [THEME-1557] Unable to close store search overlay when 0 results are returned
Fix [THEME-1595] Ordered Lists are truncated on left side of Product Description
Improve style of advanced search categories jstree
Improve style of price on product page better
May 04, 2018 - v1.5.2
Fix product thumbnails carousel should not have variable width
Fix product image disappear on cart page on tablet
May 03, 2018 - v1.5.1
Fix no results quick search popup cannot close
May 03, 2018 - v1.5.0
Shows price ranges instead of prices when they are present in the context on product list pages [#1111](https://github.com/bigcommerce/cornerstone/pull/1111)
Remove "as low as" feature and add support for price ranges instead[#1143](https://github.com/bigcommerce/cornerstone/pull/1143)
CATALOG-2408 Fix updateView firing when there are no default options [#1172](https://github.com/bigcommerce/cornerstone/pull/1172)
Add representation for products and variants with retail price that has sale price. [#1195](https://github.com/bigcommerce/cornerstone/pull/1195)
Add the +/- icons for the category filtering [#1211](https://github.com/bigcommerce/cornerstone/pull/1211)
Add head.scripts reference to checkout & order_confirmation pages [#1158](https://github.com/bigcommerce/cornerstone/pull/1158)
Fix image dimensions on AMP pages. [#1192](https://github.com/bigcommerce/cornerstone/pull/1192)
Add schema microdata for breadcrumbs. [#1175](https://github.com/bigcommerce/cornerstone/pull/1175)
Add support for per-variant bulk pricing tier display on PDP [#1167](https://github.com/bigcommerce/cornerstone/pull/1167)
Implements Add to any Wish Lists capability. [#1134](https://github.com/bigcommerce/cornerstone/pull/1134)
Fix slick-next and slick-prev so that they are centered across all screen sizes. [#1166](https://github.com/bigcommerce/cornerstone/pull/1166)
Fixes functionality of date picker option on product pages. [#1125](https://github.com/bigcommerce/cornerstone/pull/1125)
Add image width & height for carousel images. [#1126](https://github.com/bigcommerce/cornerstone/pull/1126)
STENCIL-3962 Use _.includes rather than _.contains
Adds a theme editor display toggle for weight and dimensions on product pages [#1092](https://github.com/bigcommerce/cornerstone/pull/1092)
Upgrades all dependencies except for Foundation and jQuery [#1069](https://github.com/bigcommerce/cornerstone/pull/1069)
Add footer script to optimized checkout / order confirmation [#1085](https://github.com/bigcommerce/cornerstone/pull/1085)
Fix quick search icon hide on other variations
Fix price styling on product page
Hide newsletter popup image on mobile
Fix quick view product on product page cannot select options
April 25th, 2018 - v1.4.3
[New] Add ability to mute sound on video on the main carousel
[Fix] swatch option cannot change on iPad landscape mode
[New] Add option to display SKU on product card
[Fix] cutting text on cart form select box
SALE OFF 20% for limited time
April 4th, 2018 - v1.4.2
[Fix] Fix logo & product image stretched on AMP pages
[Fix] Fix Add to Cart button does not work if product have no option on AMP page
March 29th, 2018 - v1.4.1
[New] Add theme option to on/off changing product image when hover
[Fix] Fix missing font size, outstock badge color in Theme Editor
[Fix] fix(storefront): STENCIL-3567 Fix spaces in faceted search option names
[Improve] Update styling Main Carousel for Modern style
[Fix] Fix store-logo image at footer not valid AMP
March 22th, 2018 - v1.4.0
[Fix] Fix padding of banners search box on mobile
[Fix] Hide brand images for layout A-Z Table
[New] Update AMP compatible with Supermarket theme
[New] Add new variation Modern
[New] Add option to display Out Of Stock badge
[New] Display remove icon on dropdown mini cart
March 7th, 2018 - v1.3.0
[Improve] Don't show homepage carousel video until it is loaded
[Fix] Fix expand styling on default layout - vertical dropdown sub menus checked
[Improve] Add more space on default layout for breadcumbs and sidebar
[Fix] Fix product option checkbox not change price
[Fix] Fix top banner padding
[Fix] Fix welcome text color not change
[Improve] Show products by category even category has no products
[New] Add options to set active tab, show/hide tabs in products by category blocks
[Fix] Fix G+, FB social icons messy on product page
[New] Add options number of products, subcategories display on products by category blocks
[Improve] Collapse popular brands on sidebar on mobile
[Improve] Tweak container padding, search form on 404 page, heading align & spacing
[Improve] Change checkout button to primary on cart page
[Improve] update modernizr.js to 3.5.0
[Fix] Fix product options 3 columns not work on chrome/android
[Improve] Hide quick-view text on product listing on mobile
[Improve] reduce space in product listing item
[Improve] blog page show categories menu like other pages
[New] Add option to display 4 categories in top categories list section on homepage
[New] Improve advanced search to sidebar
[Improve] Faster loading homepage carousel
[Improve] Center product main image while page is still loading
[Fix] Fix product page horizontal slider when the first image is not default
[Improve] Improve image thumbnails better size on product page
[Improve] Fix print order on checkout confirmation page
[New] Add options to display images on category blocks on homepage
[New] Add options to display recent blog posts and Instagram on homepage
[Improve] Show popular brands on category page sidebar
[New] Add theme options: top header banners, menu categories label, background of main nav
[New] Add Theme Option allow to redirect cart page after add to cart
[New] Add Option to display SKU on product items
[Fix] Fix Apple Pay button
[New] Add new Layout A-Z Table for Brands page
[Fix] Fix duplicated categories button when adding new feature search sidebar
[Fix] Fix compare table missing image when image uniform enabled
[Improve] Fix Google snippet to show correct Stock
[New] Add new feature showing button Scroll to Top
[Fix] Fix Product List none option is not checked by default
[Fix] Fix facebook like button on product page
[New] Add Feature to show Newsletter Popup
[New] Add option number of thumbnail slides on product page
January 23th, 2018 - v1.2.5
Fix sorting bar gear icon on category page on mobile
Fix sidebar margin top when no pages nav or when banner below header enabled
Improve better cookie warning style
Remove banner style for bottom banner position
Fix vertical images carousel glitch when product main image is not the first
Fix boxed main carousel not full width
Fix main carousel min-height incorrect when categories not expand on homepage
Update Akamai image optimization to not optimized for logo and product zoom images
Add new feature to allow display videos on homepage carousel
NEW FEATURES:

January 18th, 2018 - v1.2.4
Fix qty box not show on product page on version 1.2.3
January 17th, 2018 - v1.2.3
Add 40, 100 to number products per brand page, search page
Fix bug product options select box's default value reset when others out of stock
Fix bug lightbox image won't change when product option is changed
Update Yellow style product page image carousel horizontal by default
Fix spacing G+ icon
Add new feature to support custom tabs on product details
Don't display other images when product page loading
Fix schema.org Brand when product has no brand
Better product card image uniform
Move card buttons on image container
Add new feature on/off Sticky Header
Fix hide qty box if configured in store settings
Add new feature showing grid/list, products per page on product page
Remove instruction for custom tab
Fix setting incorrect ID when product image carousel has no ID
Fix login for price on product listing and make it link to login page
Fix login for price don't show after login
Fix microdata schema when no rating and added image schema
Fix product list view type not check show_cart_action
Add option to display 2,3,6 columns on product page
Use same template 'grid' for product page list view
Add theme option on/off address, phone, colors for top header
Add theme option on/off shop by brand, shop by price on sidebar
Support custom badges via custom fields, option on/off custom fields __
NEW FEATURES: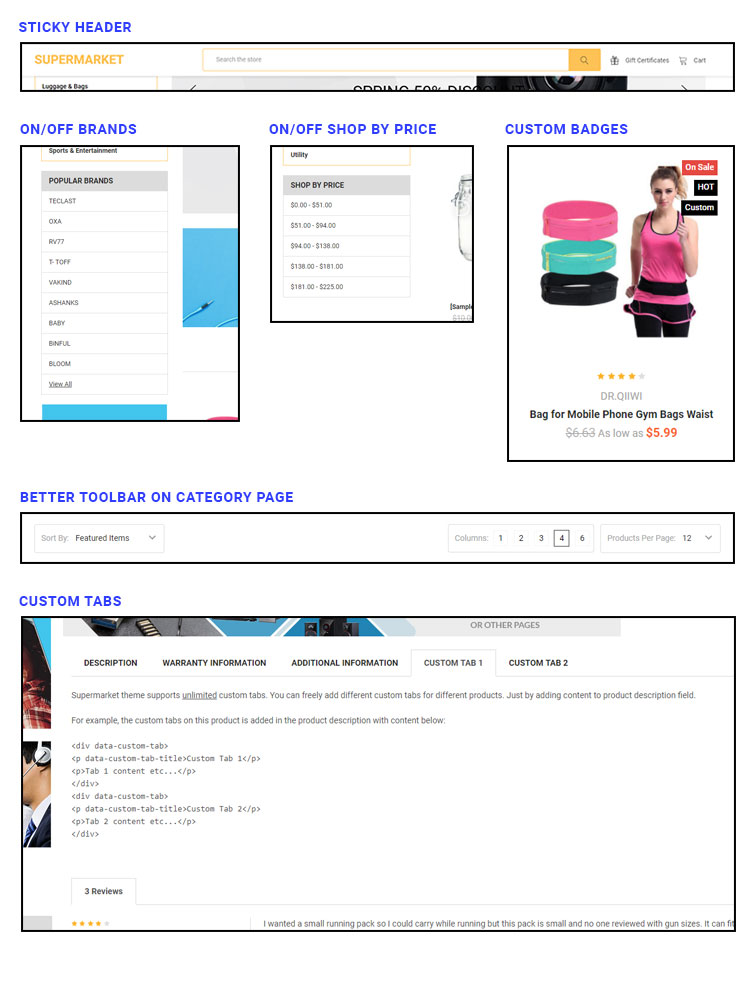 December 21th, 2017 - v1.2.2
Fix main product image not display when product options have image changed
Fix banner before description overlaps product details
Add feature to support show sub pages on menu
Fix CSS issue on popup appear after add to cart
Fix product attribute "checkbox" not work
Add theme option "product options column" & tweak css on product thumbnail horizontal carousel
Move saving price showing before without tax
Fix product image height responsive when image uniform enabled
Fix product options won't show when open child SKU direct link
Fix image lightbox not change when product option is changed
November 3rd, 2017 - v1.2.1
Add Number of Products per page 40, 100 in Theme Editor
Add new feature allow Vertical categories menu on sidebar auto expand on current category page and auto scroll to current category menu item.
Add Theme Option allow to display subcategories grid thumbnails.
Fix qty form on product page.
Add Theme Option to allow display manual custom links on main menu
Fix product thumbnail carousel on quick-view
Add Theme Options to support banners below header, on category pages, product pages.
Fix main carousel image height for general use
Fix products columns show heading when disabled
October 17th, 2017 - v1.2.0
Add theme options allow to change hover color of dropdown nav links, footer links.
Add theme option allow to change colors of Special products tabs.
Fix categories list block's heading still show when option set off.
Fix vertical subcategories showing wrong
Fix problem when enter on quantity box won't decrease 1 unit
Fix problem when manually input quality input on the cart page don't update
Add theme option to support showing horizontal slider thumbnails below the main image on product page.
Remove space at bottom of subcategories on vertical menu
Fix restore main image when product option has no custom image is selected on product page
September 28th, 2017 - v1.1.1
Fix search results overlap sidebar on Yellow style.
Remove facebook block by default.
Add theme option to make product images uniform.
Update Roboto fonts for Yellow style.
September 27th, 2017 - v1.1.0
Add new layout Left Sidebar across the whole site
Style better sidebar block
Update smaller categories menu
Update sidebar display below content on mobile
Update product filter on brand page, search page on mobile
Fix a styling glitch on block 'shop by price'
August 8th, 2017 - v1.0.8
Initial release on theme store.
Theme design & customization blog
La Paris 11 is multipurpose Sections Shopify Theme for any online clothing store, especially …

Selling hottest clothing is one of the best way to start- up, and choosing a wonderful creat …

Nowadays, people used to buy and sell anything they want in online shopping mall, it means y …