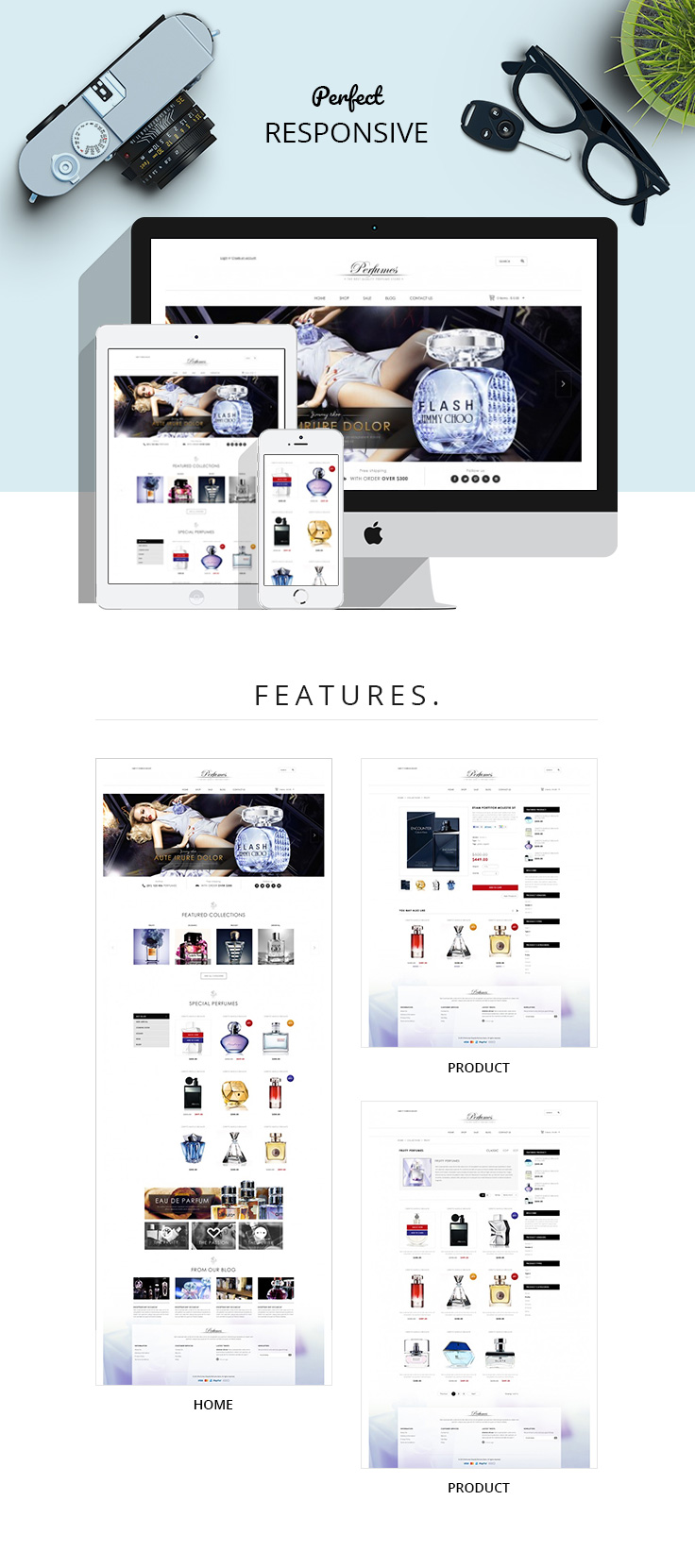 Clean and Minimalist Fragrance & Perfume Free Shopify Theme
Fragrance creates charm, evokes the nostalgic beauty and brings the imagination adventure to the distant land, showing the beauty from inside. Therefore, perfumes nowadays are a popular cosmetic in modern life, for both men and women, because cosmetics not only give the user the charm, more and more confidence through pleasant aroma, they also show the level and personality of the user.
For those reasons, perfume business has been becoming more popular and growing faster in our modern society. There are more and more shops selling perfumes across the streets. However, buying them on websites makes the buyer cautious, because they can not come in contact directly to choose the scent satisfies. So how do you turn this weakness into motivation for your shop to grow? This Free Shopify Fragrance, Perfume And Cosmetics Theme will be the answer for you.
With a special type of product and be in a high class like perfume, choosing a backdrop for them is not an easy task, as it not only looks good, but it also has to enhance the luxury of the product. As you can see in our theme, the simple white color we chose absolutely do that job well. SIMPLE IS THE BEST. Not colorful, not grandiloquent, the perfume bottle appears classically as their true value. In addition, the simplified sorting of products helps to make it easier for buyers to choose item and meet their own demands by themselves. It intensifies the value of each type as well – That their chosen is one of the kind.
Is this the only difference to this Shopify Perfume theme? Of course not! In addition to this minimal, attractive platform, this shopify free theme has a number of useful features that make it even easier than ever to trade this picky product line. To adapt to the current resolution, fluid width design is optimized for all the most popular screens, including mobile, tablet, PC. Besides, the first impression of your shop has a big influence on the purchase process of the customers, so beautiful images of the products will be slideshows and many other configurations will attract them at first sight . Along with the shimmers of item, the product images effect that is Adding Zoom and LightBox image effect in the product page, will bring the same feeling as the actual experience for shoppers, help to improve ability to pick up one of shoppers. And what about consulting your customers? A blog including useful modules for the latest news, tags and Quickshop features that will help you to view the product details, select options and add to carts will act as an enthusiastic, professional consultant will set your mind at rest in this task.
Shopify Fragrance & Perfume Theme will give your customers the most authentic and convenient experience. Along with many other useful features that this template brings, surely shoppers will not be able to leave your website without having picked up a nice perfume bottle.
Certainly there will not be anywhere to bring you a more wonderful cosmetics theme like this Shopify Perfume theme. Choose this amazing shopify free theme to upgrade your brand right away!
Fragrance & Perfume Free Shopify Theme includes many great features:
1. Responsive Web Design:

Fluid width: Design is optimized for all the most popular screen resolutions. When screen is resized, design elements are transformed smoothly on each breakpoint (from 320 to 1680 pixels) in order to adapt to the current resolution

2. Dropdown Menu:

Well responsive and mobile friendly

3. Main Slideshow:

Showing beautiful slideshow image and many other configurations
Free upload images
Well responsive and mobile friendly

4. Quickshop:

Showing icon Quick Shop for each product in the home page, collection page, product page, search page.
Help customer quickly view product details, select options and Add to cart

5. Blog:

Including system modules useful for latest news, tags

6. Featured Products:

Display featured products in homepage
Well responsive and mobile friendly

7. Product image effect:

Adding Zoom and LightBox image effect in product page

8. Build on Bootstrap Twitter 3:

100% Responsive: Looks good on Mobile, Tablet and PC
Fluid grid system 24 columns

9. Main Features:

Configuring background and color for header, content, footer and some other widgets easily
Integration with the Google Web Fonts library
Customize logo, favicon upload easily
Mini drop down cart
Supporting quick login
Supporting multiple currencies
Supporting search function
Supporting get shipping estimates in shopping cart
Supporting Twitter embed widget
Supporting Newsletter with Mailchimp
Supporting List and Grid in collection page, search page, all product page
Supporting Sort by and Filter in collection page, search page, all product page
Related Product with slider effect
Easy social sharing buttons on product
Showing popup message when add to cart
Displaying fly image to cart for each products when add to cart
Working Contact form with Google Map
Style customer area
Style checkout area
Beautiful typography
Detailed documentation
the best

Beutiful Theme & Easy to Use

Great theme

This theme is very well designed and looks professional. They include a lot of features i wanted in a theme, that most themes didn't have.